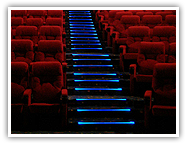 Our world class range of designer LEDs and Steplite theatre lighting system makethe whole cine experience - aesthetic, safe and luxurious. The designer guided illumination adds new grandeur to theatres and showrooms, leaving a dramatic effect on visitors' minds.

Anti skid rubber in aluminum extrusion foe better grip.
Special fiber optic rod illuminated by high power LED.
Highly cost effective since it consumes just 50/100 watts power for entire theatre.
Available in wide range of hues red, green, blue, yellow & white.
Tailor made to suit your requirement, easy to install.